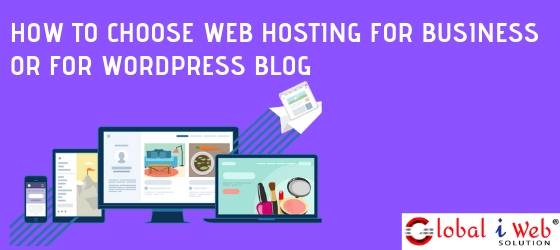 How To Choose Web Hosting For Business | WordPress Blog Hosting
How will we decide if a web host is good Web Hosting For Business? Do bandwidth and disk storage capacity features still matter these days or not? Which type of hosting service must you go for WordPress Blog Hosting or Linux web hosting? Let me help you discover the answers to your questions and more. I'll guide you along the way with a complete walk through accompanied by a specially designed 10-point checklist to ensure all you know exactly how to choose the right web hosting for your business or for WordPress blog.
What you will learn?
Know Your Hosting Needs
Determine What Type of Site You're Building
Understand Which and How Many Resources You Require
Understand How Web Hosting Pricing Works
Signup prices vs renewal prices
Essential Features in a Web Host
An Easy-to-use Hosting Control Panel
Site Backup
Server Responsiveness
Think Ahead: and choose a web host With which you can Grow your business
1.Know Your Hosting Needs
Before you begin searching for Web Hosting For Business or for your WordPress blog, take a moment to think about what you're trying to get out of your next relationship. Just like light sleepers probably shouldn't date people who snore, your needs will affect your compatibility with certain hosting providers and services. A dedicated server is not important for a personal portfolio website, just like a high-traffic, high-volume online e-commerce store shouldn't cut corners with the cheapest shared hosting plan.
1a. Shared Hosting
Shared Hosting is nice for small to Medium Sites. Because In shared web hosting, many customers and websites share a similar server. You can choose between Linux Web hosting and WordPress Web Hosting, On one hand, shared hosting is classic first-boyfriend material easy and uncomplicated. Most first-time hosting customers should turn to a shared package when entering the web hosting world. After then decide when it's time to upgrade to a VPS or dedicated plan to meet your increasing needs.
1b. VPS Hosting
VPS Hosting which stands for a virtual private server Offers More flexibility for Fast-Growing Sites. This hosting is a happy middle ground between the casual dating of shared hosting and the commitment of a dedicated server. The server is divided into a virtual machine, which always acts as independent dedicated servers. VPS customers get high larger portions and high control compare to shared hosting. This the best web hosting for business you can go for.
1c. Dedicated Hosting
Dedicated Hosting allows to use maximum Server Resources and Security Finally, you've found The One. High-performing and high volumes sites need dedicated hosting, which entails using an entire server to power your website or applications. As the name implies, dedicated servers area unit ready to wait on you hand and foot and meet your every configuration need. This is also Advisable to use for high-traffic website and for business website.
2. Determine What Type of Site You're Building
Just as how the amount of expected traffic or server load affects which type of hosting plan you'll want to find? Your type of website will determine which features are most important to have. Some hosting providers, for example, promote E-Commerce functionality while others concentrate on blogging and search engine optimization.
2a. WordPress Blog:
Consider a WordPress Web Host. Because WordPress recently crossing the 28% mark and powering more than a quarter of all websites on the internet. The content management system is a simple pick for writers looking to share their thoughts on the online world. Seemingly every host offers streamlined one-click installations of WordPress.
But the best service providers include upgraded hardware, unlimited storage, and bandwidth, pre-installed programs, and dedicated WordPress expertise and technical support. If you just Want to share your thought on the website then you can go for WordPress Blog Hosting.
2b. Online Store:
Consider an E-Commerce Hosting Service For more than just marketing your brand. An online store is a must-have for business owners. In 2016, analytics firm comScore found that consumers buy more things online than in stores. More than half of the US population shops online. And now research shows that in 2019, India also has large numbers of online buyers. That means businesses should find a web host with strong E-Commerce options.
2c. Personal Site:
Consider a Low-Cost, High-Value Host Whether you're sharing a recent trip snapshot or giving friends and family information about your upcoming event, personal websites still need to convey information in a visually appealing way. Hosting customers do not need to break open the piggy bank to create a stunning website hosts attract beginners and hobbyists by making web hosting extremely affordable and easy to use. Just because of bargain-basement prices, don't assume that services will be subpar.
Many host provider offers unlimited storage, bandwidth, and email accounts to go with 24×7 support and online marketing credits. Get the most effective deal, keep a watch out for hosting providers that include high-speed solid-state drives.
2e. Business Site:
Consider a Host With Which You Can Grow Even if you don't plan on using your website to sell products, your business is counting on the online presence to increase brand recognition. Entrepreneurs will expect their business website to grow 10 to 20 percent monthly if all goes well, therefore you'll need to search out a hosting provider which will handle a booming business.
Ideally, a successful and powerful hosting relationship is a lifelong commitment. Instead of constantly searching for the next best thing, find a web host that is in it for the long haul. In addition to a powerful shared hosting plan, we offer top-rate features at the VPS and dedicated hosting levels. Meaning the host will stand by your side as you become more and more successful.
3. Understand Which and How Many Resources You May Require
New internet hosting customers naturally flock to the suppliers and plans that offer the most features for the fewest dollars. Instead of simply seeking out the cheapest partner, however, you can find greater hosting happiness by looking for a service that is compatible with your specific needs.
Businesses might prioritize email practicality over storage, for example, while a developer might prefer high bandwidth rates and stringent security. The technical options of web hosting can be confusing to beginners, and hosts sometimes use confusing lingo to market their services. You don't need to be wary of mythical plans offering unlimited storage, bandwidth, and email accounts, but you should understand the various hosting components and limitations providers might impose.
3a. Storage and RAM Storage
Storage and RAM Storage, or disk space, is probably the easiest hosting feature or important factor to understand. As well as the component you probably have to worry about the least. Many shared hosting suppliers offer unlimited storage; while that may not be technically possible, most personal or small business site owners won't come close to reaching the limits. As you move your self toward VPS and dedicated plans, storage can be configured as you go.
The biggest thing to look for when it comes to web hosting is storage. SSD hosting is much faster than HDD drive and more reliable, but they come at a higher price. Traditional hard-disk drives are more common in the unlimited plans because they have higher capacities. As with your personal computer, RAM in web hosting serves a similar purpose: quickly processing stored data. The hardware interacts together with your storage drives to accelerate page load times and lots of consider RAM to be among the foremost important options to consider when selecting a host.
3b. Bandwidth and Data Transfer
Bandwidth and Data Transfer, also impacting your website performance, bandwidth accounts for the number of data downloaded or uploaded from a website. Also referred to as data transfers, bandwidth is all regarding how quickly visitors will access your site's information. The higher the bandwidth, the higher the number of people who will view your site at the same time
3c. Domains and Email
Even though they commonly get lumped together, domain registration and web hosting are 2 totally different services. Your domain name serves as your website's address and can be registered and hosted with a different company than the one hosting your site's files. I prefer to keep all my hosting resources within the same account. And many of the best domain hosts include free transfers and migrations.
Some providers even include free domain hosting for the first year of newly registered addresses. Email hosting appeals particularly to business owners who need the notoriety and name recognition of including the domain name in email addresses. Hosting providers often include advanced email feature. Such as forwarding and filtering services, auto responders, and enhanced security, for clients who need several inboxes or marketing tools.
3d. Up-time Rates and Reliability
As entrepreneurs know, time is money. Every second your website is inaccessible can mean hundreds of missed sales opportunities, broken brand name and lost productivity. The Amazon Web Services outage in early 2017 cost companies an estimated $150 million during 3 to four hours of interrupted service.
Most hosts guarantee a certain amount of up-time and will reimburse you for any unplanned outages beyond the service-level agreement. Guarantees typically range from 100% to as low as 99%, although most shared hosting customers will notice themselves perfectly happy with the ultra-common 99.9% uptime threshold. Larger businesses, however, might prefer to pay a premium for a few extra nines.
3e. Security and Support
Although a website's security is largely dependent on an administrator's behavior and password strength, among other characteristics, the hosting company's infrastructure can represent one of the largest weaknesses. More than 400th of internet sites are compromised due to a host's vulnerability, so be sure to look for the suppliers that include firewalls, monitoring services, and other security add-ons. Bonus points for automatic backups and hands-free WordPress updates.
Hosting customers would be hard-pressed to find a provider that doesn't offer 24×7 support through multiple channels, but actual execution varies wildly. Whether you have a billing question or need technical help getting unhacked, customer service should be responsive and ready to assist. Unfortunately, this critical aspect of hosting is hard to discern until you are already signed up for a plan and find yourself needing help. Definitely, do your research to inform if a host's support stacks up.
4. Understand How Web Hosting Pricing Works
We know, the price usually reigns supreme when buying a new web host. I've even been sucked into the low-cost hosting scavenger hunt. While your costs should definitely decision factor in your hosting plan, don't sacrifice support and performance. Also, don't forget to budget for services such as domain name registration and any themes or plugins you would possibly need to add. Hosting itself can price as little as a few bucks per month, and most suppliers will give you a discount for signing up for a year or longer and that's in addition to the deals our favorite hosts allow us
4a. Why Free Hosting Isn't always a good plan
when you're a brand new business owner with a limited budget, the web hosting company giving the lowest price can be very tempting. Remember you get what you pay for.
The cheapest price might just result in poor customer service, slow servers, constant downtime, and an association with thousands of unprofessional websites that you would be embarrassed to share with your grandmother. The convenience and savings are attractive, but the added features, support, and security you can gain by signing up with a reputable hosting provider are well worth the slight cost.
4b. Why cheap Hosting suppliers Have more price to give
Because hosting companies can pack thousands of hosting customers onto a shared server, providers can afford to include dozens of value-added services with hosting plans. By signing up for an affordable hosting plan, you can experiment with luxury options, such as content delivery networks, automatic backups, website builders, and E-Commerce tools, to explore different avenues of online success. And when we talk about web hosting for business we never have to settle down for cheap web hosting.
5. Signup vs Renewal Price
Hosting deals are usually cheapest during signup, especially for shared hosting. Be aware though that these often come with a much higher renewal price, so be careful before clicking 'buy' on that plan that is offering you a signup price at 80% discount! This is an industry norm. Unless you are willing to hop between 2 or 3 web hosts every 2 years, there is no way to avoid pricey renewal costs.
6. Essential Features in a Web Host
Sure, some things like file management and website stats are almost always there, but also keep an eye on FTP / SFTP, one-click installer, and DNS management. Also, there should be a file manager to make sure you can edit the .htaccess file from there which is also an important factor.
6a. One-click Installer
This feature comes in various flavors, such as Softalucous or Simple Script. Either way, the aim of the one-click installer is to make your life a heck of a lot easier. These are sort of easy installation wizards that can help you in installing things like WordPress, Joomla, Drupal, or other web applications. All you'll need to do is fill in some names and maybe specify a directory or so on the way.
6b. FTP / SFTP Access
FTP / SFTP Access is invaluable for moving large amounts of files securely and safely. Some hosts try to go away with simply the file manager, but that is usually quite limited.
6c- .Htaccess File Access
dot-htaccess File Access is also extremely powerful and can help you make site-wide administrative changes. It controls almost everything from redirects up to password authentication and management and will be very important at some purpose in your future endeavors. Unless you are signing up on a specialty web host like WP Engine and Presidium (these focus on WordPress hosting mainly), these basic features are a must-have. You SHOULD NOT settle with hosting suppliers that don't provide them.
7. An Easy-to-use Hosting Control Panel
A user-friendly control panel with extensive functionality is very important since it's the brain of your hosting account. It doesn't matter if it's C-Panel or Plesk or even a third-party control panel (like what Global I web solution offers), as long as it is user-friendly and comes with all the necessary functions. Without a dedicated control panel, you will be left at the mercy of the hosting tech support staff – even if all you need is some basic service.
8. Site Backup
Site Backup, Equipment fails, Computers crash, these are the facts of life even as death and taxes are. Your website will be vulnerable to these factors, or perhaps a hacker got into your WordPress blog and replaced your index.php file. Maybe your entire database got nuked.
If your web host will site backups regularly then there's nothing to stress regarding when these incidents happen. Your hosting supplier should be able to restore your full website in no time at all (or at least, a big chunk of it).
Here are a few key questions to ask your web host on backup:
Does your web host provide full backups regularly?
Site backup can be done manually via the control panel or not?
Can you restore your backup files by yourself easily so you don't have to wait for support staff to do it for you during a period of disaster recovery?
9. Server Responsiveness
We don't mean if your hosting company service responds to you quickly or not! Responsiveness is a measure of the time it takes from once somebody hits enter on your domain name until the server acknowledges that request. Also known as Time To first byte (TTFB), your server response speed is more than for self-gratification at having the fastest loading website. It proved in research the longer a user waits for a website to load, they will leave the site before it even finishes loading.
Your website speed surely also affects your ranking on Google and other search engines results. This is seldom something that a web hosting company can tell you. One common guideline is often price. Top-of-the-line equipment and infrastructure do not come cheap.
10. Think Ahead: Choose a Host With Which You Can Grow
Don't be afraid to daydream regarding the brilliant, busy futures of your websites. Some of the most budget-driven web hosts concentrate solely on shared hosting, meaning you'll have to part ways and take your chances out in the hosting dating pool when you're ready to move forward with dedicated services or VPS. We strongly prefer hosts we can stick with for a long time.
Final Word
Which Hosting Provider Should You Choose For Web Hosting? You will come across many web hosting providers who provide Web Hosting For Business or for WordPress blog hosting but it is important to do your research before you sign up with any web hosting company. At global-I-web, a wide range of features are offered with all the Web hosting packages like free SSL certificate, hosting on powerful SSD servers, email accounts, free SEO and Online Marketing Tool, One Click WordPress Installation, etc. at a highly affordable cost.
Global-I-Web provides 24×7 assistance when it comes to setting up the website or for migrating the website along with a risk-free money back guarantee. If you are planning to set up a new website, then you can set up your website with Global-i-Web right away at an affordable cost. Sign up for Web hosting for business or for your WordPress Blog hosting click here.